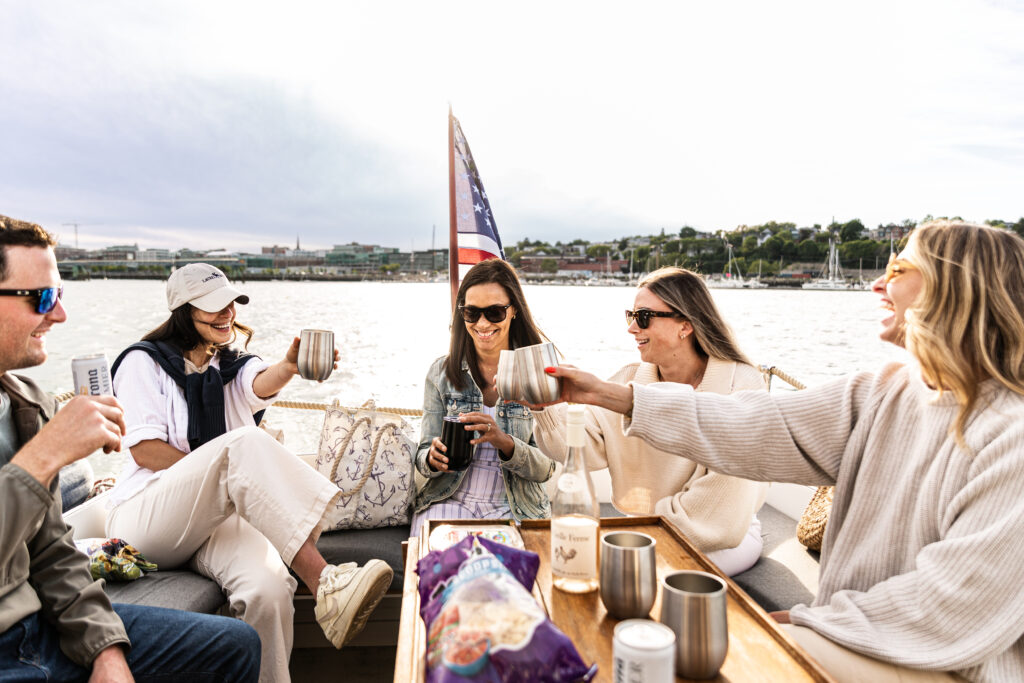 Come celebrate Flappy Hour aboard the beautiful Calista Ann, our motored picnic boat!
Enjoy your cruise through Casco Bay with a glass of rose in hand on your way to Crown Jewel on Great Diamond Island. This is the most unique, exclusive island cruise Portland, Maine has to offer, and an experience you won't soon forget!
Our round trip fare is $50 per person. This includes a guaranteed reservation at the restaurant, a 30 minute trip out to Great Diamond Island, an hour of dining ( with1.5 hours for brunch excursions) and approximately 30 minutes back to mainland Portland. Charters depart from Fore Points Marina, conveniently located in downtown Portland. Both individual and group reservations of up to 12 guests are available!
2023 Dates
Memorial Day Weekend
Friday, 5/26: 2:30pm (Portland departure) – 4:30pm (Portland arrival)
Sat, 5/27: 10:30am (Portland departure) – 1:00pm (Portland arrival)
Sun, 5/28: 10:30am (Portland departure) – 1:00pm (Portland arrival)
Mon, 5/29: 10:30am (Portland departure) – 1:00pm (Portland arrival)
Wednesday and Thursday Flappy Hour
Every Wednesday & Thursday from 6/21 – 8/30
 2:30pm (Portland departure) – 4:30pm (Portland arrival)
Friday Happy Hour
Shoulder season only
Friday, June 2nd: 2:30pm (Portland departure) – 4:30pm (Portland arrival)
Friday, June 9th: 2:30pm (Portland departure) – 4:30pm (Portland arrival)
Friday, June 16th: 2:30pm (Portland departure) – 4:30pm (Portland arrival)
Friday, September 8th: 2:30pm (Portland departure) – 4:30pm (Portland arrival)
Friday, September 15th: 2:30pm (Portland departure) – 4:30pm (Portland arrival)
Sunday Brunch
Every Sunday from May 28th – September 17th
10:30am (Portland departure) – 1:00pm (Portland arrival)