Treat yourself to the best Portland, Maine boat charters with Sail Portland Maine. There is no better way to experience our vibrant city's coastline!
Relax aboard our sailing vessel the Eleanor Hawkes, or our newly acquired picnic boat, the Calista Ann, as we cruise through tranquil waters of Portland Harbor sailing Casco Bay. Bring along any beverages and snacks you want, there are a myriad of eateries, breweries, and food trucks in Portland. Come enjoy the sights and sounds of our lovely Casco Bay and the Portland skyline and working waterfront.
Our Unique Chartered Cruises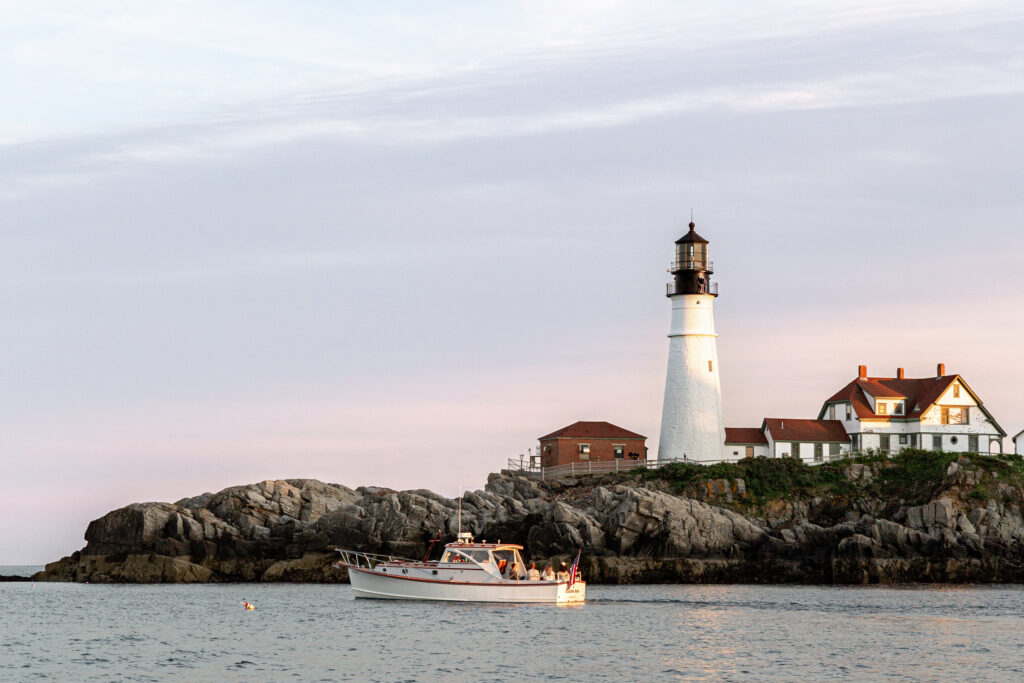 Every day we offer two-hour public or private charters that might have you cruising past lighthouses, historic forts, and seals swimming in the harbor of Casco Bay. At Sail Portland Maine we offer intimate, crowd-free, professionally-captained excursions aboard our vessels, the Eleanor Hawkes or the Calista Ann. 
We provide multiple trip options to ensure that your Portland, Maine boat cruise fits into your schedule. You can choose from three different charter times throughout the day:
Eleanor Hawkes (Sailboat)
BYOB and Food
12:00 PM – 2:00 PM: $85 per Person/$500 Private Charter
3:00 PM – 5:00 PM: $85 per Person/$500 Private Charter
6:00 PM – 8:00 PM (Fall hours vary): $99 per Person/$600 Private Charter
Calista Ann (Classic Motor Yacht)
All private charters on Calista Ann are sold by a per ticket basis after minimum charter rate. Please contact us or call directly for any questions. BYOB and Food.
12:00 PM – 2:00 PM: $85 per Person/Private Charter Starting @ $680
3:00 PM – 5:00 PM: $85 per Person/Private Charter Starting @ $680
6:00 PM – 8:00 PM (Fall hours vary): $99 per Person/Private Charter Starting @ $792
Private Charters
Private charters are based on availability.
Our private cruises are perfect for a group of up to 6 guests on the Eleanor Hawkes and up to 12 passengers on the Calista Ann. For even more space, book the Calista Ann – she is the newest addition to the company, keeping with the style and intimacy that our brand represents. She is a classic Downeast Picnic boat and is a comfortable cocktail cruiser. 
Private charters could be anything from a couple wanting to cruise to one of the nearby island restaurants for an anniversary dinner and then a cruise back under the stars, or a couple who wants to elope and get married by the captain with a few friends to witness – your imagination is the limit! We can recommend catering as well. 
Some of the many incredible island restaurants we can take you to by boat are Crown Jewel on Great Diamond Island, The Dolphin Marina & Restaurant or Iris Eats in Harpswell, and Island Lobster Company on Peaks Island.
Book Your Portland Maine Boat Tour!
When you book your ticket for one of our private chartered boat trips at Sail Portland Maine, it can be anything you want it to be! There are so many beautiful and unique factors about our beloved Casco Bay – from diverse wildlife like seals and porpoise to the historic Fort Gorges and the sun setting over coastal islands, soak in the beauty that is Portland's harbor.
For an incredible adventure you'll talk about for years to come, reserve your trip with us below!