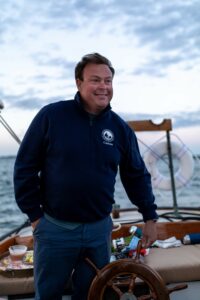 Sail Portland Maine started in 2019 as the result of Captain Ian Glass' lifelong love for sailing and desire to make dreams a reality. From a young age, Captain Ian was always interested in the water. His passion stems from a long line of sailors in the family and to which Ian has created his own path in the maritime world. At 19 years old, Ian left Florida and went to crew on a schooner in Camden, Maine. After three days of sailing around Penobscot Bay he was hooked, and as they say – the rest is history. Now he spends his days captaining unique, intimate charters in Casco Bay for all to enjoy!
Ian has experience crewing and captaining many different types of vessels. From private sailing yachts to commercial supply boats and his favorite, the traditionally rigged gaff schooner. His journeys saw him cooking on-board yachts for royal families and crossing all of the world's major oceans. He will be glad to share his personal story aboard one of his two boats, explain the history of Portland, and share interesting maritime history as you cruise.
Portland, Maine Charters in Casco Bay
The best part about booking a trip with Captain Ian is that he can create custom charters in Casco Bay for you! Whether you want to cruise to one of the local islands for a dinner out, host an elopement or micro-wedding, or simply enjoy a trip with loved ones, let us take you there! Our goal is to give you the trip of a lifetime and provide the best charters in Casco Bay.