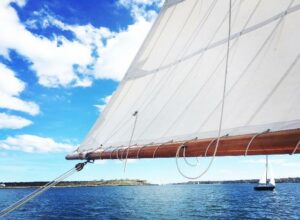 Sail Portland Maine is proud to provide the best boat tours Portland, Maine has to offer, with various types of cruises and options to ensure there is something for everyone!
There are some common questions we are frequently asked prior to our chartered trips, which we have compiled and answered for you below. If you have questions that aren't answered here, please contact us directly!
How long are the trips?
Trips generally last two hours for public and specialty cruises. Longer trips are available upon request.
---
What should we bring?
Any food or beverage you like. The boat will have complimentary bottles of water onboard. BYOB!
---
Is gratuity included?
If you have a great time onboard, feel free to show it. This is considered a tourism/service based industry where 15-20% tip is common. Your captain and crews will greatly appreciate it!
---
What happens if it rains at the time of my trip?
In the case of a light drizzle, we'll typically proceed with our trips. If there is steady rain or inclement weather that would make a trip uncomfortable, we will usually cancel the charter and reschedule as needed.
See our cancellation/rescheduling policy here.
---
What do I wear?
Dress as you would for walking around town, but be sure to bring an extra sweater/sweatshirt and a windbreaker with you. If you're "on the fence" about shorts versus long pants…go with the long pants. Also useful is a baseball type cap with visor, sunglasses (polarized are best) and sunscreen. And, of course, don't forget your camera!
Here is a helpful packing guide to help you prepare.
---
May we bring along food and/or alcoholic beverages?
Yes – feel free to bring onboard with you any food, beer or wine that you'd like to. 
---
Is there a bathroom aboard?
Yes, but it is very small. There are public restrooms very near the piers at the marina from which our boats leave.
---
How many people can we bring?
The Eleanor Hawkes has a maximum capacity is 6 guests. If you're a group of 7 or more, please call or email us about private charters on our newly acquired picnic boat, the Calista Ann, which can accommodate a minimum of 8 and a maximum of 12 guests.
---
Are tours handicap accessible?
Canes and walkers are fine on the boat, though a foldable walker may be best if it is an option. Wheelchairs are not able to fit on the boat. 
---
Are the boats pet friendly? 
We only allow dogs or other pets onboard during private charters.
Will we see wildlife?
There is plenty of wildlife to be seen in Casco Bay! From seals and seabirds to a variety of fish (and even the occasional dolphin!) there is plenty of wildlife to keep an eye out for on our charters.
---
Do I need to be concerned about seasickness?
You can expect smooth sailing, since we will be staying within the calm waters of Casco Bay – seasickness is uncommon, though if you are sensitive to it, preventative medication can be helpful. Please use at your own discretion.
---
Can I smoke onboard?
There is no smoking of any kind allowed during our trips.
Book Your Casco Bay Boat Tour in Portland, Maine
Come cruise aboard the Eleanor Hawkes, a traditional friendship sloop, or our newly acquired cocktail cruiser, the Calista Ann, and enjoy a trip of a lifetime on the most unique boat tours Portland Maine has to offer. Book your charter with Sail Portland Maine today!