During peak summer in Portland, the absolute best place to be is out sailing on the Casco Bay. The warm sun reflecting off the tranquil waves of the Atlantic, eventually lowering over the Portland skyline and setting the sky on fire, is an experience like no other. The only thing that can put a damper on a sailing trip is being unprepared in what you pack – Maine weather is notorious for changing minute-to-minute, so you'll want to make sure you have everything you need to be comfortable for your sail. Below, we've put together a packing guide for a day of sailing in Maine!
Weather-Appropriate Clothing
First thing's first – check the weather the day of your sail so you can choose the best clothing for the day! We will generally cancel if it's down-pouring, but will continue our sails in a shower or light drizzle, so knowing that in advance can help you plan your outfit.
We advise dressing as you would for a day about town, but packing extra layers such as a sweatshirt, sweater, windbreaker or rain jacket will help you be prepared. It can get breezy on the water as the sun sets, so while a hot day may call for shorts, long pants tend to be more comfortable in the evening. 
Essential Accessories
The sun can get strong during the day, so pack a wide-brimmed hat or baseball cap and sunglasses – polarized is best, if you have them. Sunscreen is a must! 
For evening, it never hurts to pack a blanket or towel for a cozy extra layer. Like we mentioned, it can get breezy or even chilly after the sun sets, so this will depend on the time of day you sail with us.
Other accessories you won't want to forget? Your camera and any extra batteries, SD cards or film that go along with it! Binoculars can be a great addition, too, for spotting local wildlife such as seals, osprey and – if you're really lucky – maybe even a whale or dolphin!
Snacks & Beverages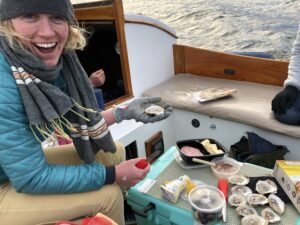 Bringing your own food and drinks aboard are not only allowed, but highly encouraged! We want you to enjoy our sail as much as possible, and our two-hour trips are best served with snacks and beverages. 
It's always a great idea to bring bottles of water, especially on a hot day. Alcoholic beverages are also allowed, whether it's a pack of ice-cold beers or a bottle of wine – bring your cooler, which we can store for you below deck.  
In terms of food, the sky's the limit! Charcuterie and cheese boards are very common and an easy way to snack without having your hands full; chips and dips are another great option. Taking a sail around dinner time? Grab take-out from one of your favorite local restaurants to bring with you! We will happily advise our favorite spots to grab food if you need recommendations. If you're chartering a sail for a private event, such as an anniversary, elopement or other celebration, we can accommodate catering, as well. 
Like the Norwegians say: "There's no such thing as bad weather, only bad clothes." Let Sail Portland Maine make your trip a lifelong memory with the most comfortable trip possible – reference our packing guide for a day of sailing in Maine and be ready for anything! 
To book your chartered trip with Sail Portland Maine, reserve your tickets here.