We are fully in the swing of summer in Maine, and whether you're a native or just visiting, you know that this is the ideal time to be enjoying our beautiful natural resources! Luckily, the Pine Tree State is full of outdoor adventures to take advantage of: hiking, camping, fishing, swimming – the list goes on! Above all, though, you'll want to add a chartered sail in Portland's stunning Casco Bay to your Maine bucket list. Need some inspiration for booking your sail? We've put together our favorite reasons below. Let your Maine sailing adventure commence this summer with Sail Portland Maine!
1. Create Memories That Will Last Forever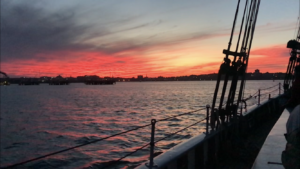 This one is a guarantee – at Sail Portland Maine, we value your time and enjoyment above all else and will do anything we can to make your trip an unforgettable memory. Every day we offer two-hour public or private sails that give you an intimate, crowd-free chartered sail unlike any other. 
Whether you're on a family vacation, visiting with friends, celebrating a life event, or want to surprise your significant other with an anniversary gift (or proposal!), we will provide you with the best experience possible. 
2. Customize Your Own Unique Trips
Our chartered sails are as unique as the individuals who book them. No two sails are alike! Want to sail to one of the beautiful Casco Bay islands for dinner? How about an al fresco afternoon that you want to go on longer than two hours? Perhaps an elopement or small, memorable wedding? Whatever your vision is for your sail trip, your imagination is the limit – we can make it happen at Sail Portland Maine!
3. Host an Event Like No Other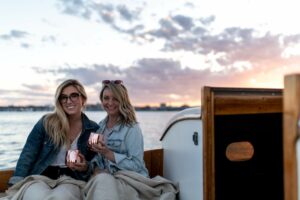 We may be biased, but at Sail Portland Maine we strongly believe that there is no better way to celebrate with loved ones than with a private chartered sail around Casco Bay. We can accommodate small groups up to 6 people, making for an intimate, luxurious experience on the open water. Enjoy yourself as if the sailboat belongs to you – without the heavy lift, of course! Any type of celebration you dream up, we can accommodate for you.
Put your craft beers, wine or take-out cocktails on ice, pack some snacks or sandwiches, and grab your friends for an epic bachelor or bachelorette celebration. Get married with your closest friends or family and have the captain officiate. Take a ride out to Peaks Island, Great Diamond Island or any of the others for dinner and sail back to the mainland under the stars. Whatever you're celebrating, make it the most memorable event yet with Sail Portland Maine! 
4. Experience Wildlife Firsthand
There are so many incredible things to be seen while sailing the tranquil waters of the Casco Bay, but by far our favorite is the coastal wildlife. Most common in our waters are harbor seals, leaping sturgeon, sunfish, and osprey; however, if you're really lucky, you may even see whales, harbor porpoises, or dolphins! The anticipation of seeing these majestic sea animals add a whole new level of excitement to your chartered sail trip – nothing says "Maine sailing adventure" like a little head popping up from below the water's surface!
5. See Portland Through a New Lens
Trust us when we say that the best views of Portland's breathtaking skyline are from the tranquil waters of the Casco Bay. Take a break from the bustling streets, crack open a cold beer or bottle of wine (we're BYOB!) and simply relax and unwind aboard our sailing vessel. Oh, and make sure to snap some shots of the sunset for Instagram. There is truly nothing like it!
Book Your Maine Sailing Adventure Today
For the best sailing charters Casco Bay has to offer, look no further than Sail Portland Maine! We're booking up fast for the summer, so reserve your tickets for a public or private chartered sail today! Click here to book.