There are no shortage of incredible, exciting life events these days! Engagements, weddings, bridal or baby showers, bachelor and bachelorette parties, even visiting friends or family for a weekend – these are all incredible ways to celebrate precious time spent with loved ones. With the congestion due to all the postponed COVID-era events, options can feel limited when it comes to venues. We're here to offer you a unique option you may not have considered, which is that there is no better way to celebrate your loved ones than with a private boat charter in Portland, Maine!
Private Charters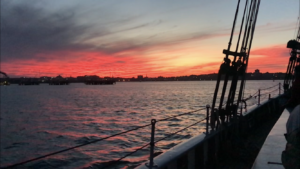 Private charters are always an option for our Casco Bay cruises. Whether you're a family, a group of friends, or even simply a couple looking to have the boat to yourselves for a couple of hours. We offer trips for up to 6 guests aboard our sailboat, the Eleanor Hawkes, and trips for up to 12 (with a minimum of 8) aboard our cocktail cruiser, the Calista Ann. There is nothing more special and luxurious than a private, intimate charter through the Casco Bay.
Casco Bay Sunset Cruises
Our Saturday charters at sundown are a crowd favorite, and for very good reason! Every Saturday evening, you can take advantage of these incredible trips. Watch as the sun sets the sky on fire over the calm, rippling waters of Portland's harbor (and be sure to snap that perfect Instagram shot). This special trip is best served with a glass of cold rosé or beer – and for that reason, we're always BOYB! It's a match made in heaven and a breathtaking scene you're sure to never forget.
Unique Chartered Trips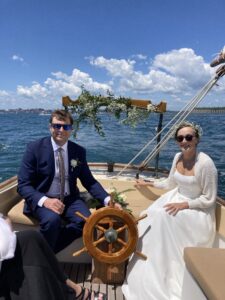 Our private harbor cruises are second to none when it comes to making your coastal dreams a reality! Your imagination is the limit when it comes to private charters. From cruising to any nearby island restaurant for dinner (we highly recommend Crown Jewel on Great Diamond Island!) to eloping with a few friends or family and our ordained captain. Your trip can be completely, uniquely yours!
Don't have anything crazy planned but want to spend more than two hours out on the water? We can extend your trip for as long as you'd like (and even suggest our favorite spots to grab food for the ride). Want to simply enjoy a craft beer or chilled glass of rosé while enjoying the stunning sights of the Casco Bay? We can do that too! Our customizable, intimate trips are what make us truly stand out.
Create Memories That Will Last Forever
Whether it's your first time in Portland, a returning vacationer or a local Mainer looking to enjoy our beautiful state from a different perspective, we at Sail Portland Maine are here to provide you with the best possible experience on the water. We value your enjoyment above all else, so you can be sure we'll do whatever we can to ensure that your time with us in the Casco Bay is unforgettable. There is truly no better way to celebrate your next big event – or even simply commemorate your vacation – than with a private Casco Bay private harbor cruise. Let Sail Portland Maine make your chartered trip a lifelong memory you'll talk about for years to come! To book a private boat charter in Portland, Maine, reserve your sail here.