When it comes to the most unique wedding venues in Maine, there are ample options to choose from – our gorgeous state has nearly endless photogenic backdrops! From lush green forests and crystalline lakes to glorious mountains and our incomparable rocky coastline, the Pine Tree State is second to none. Whether you're hosting a micro-wedding to eloping, any Maine wedding location is sure to bring natural beauty and incredible lifelong memories.
If you're looking for the most romantic places to get married in Maine, you've come to the right place! We have put together a list of our favorite locales that would be perfect for you to say "I do" to help you find your perfect spot!
1. Mackworth Island
For nature-lovers, ocean-lovers and everyone in between, you simply can't go wrong with Mackworth Island in Falmouth for your wedding. Just a few minutes outside of Portland, stepping onto Mackworth feels like you are transported to another land. Complete with sandy beaches, grassy fields, rocky coasts and shady forests, it would be an absolutely lovely place to commit to your partner.
2. Sailing the Casco Bay
Getting married by the ocean is wonderful, but for those of you wanting to try a more intimate approach, take it a step further by marrying at sea! Boat weddings aren't as common as land-based weddings, so yours is sure to be a once-in-a-lifetime event – not only for you and your partner, but for any loved ones who may be joining you to celebrate the big day.

At Sail Portland Maine, we are always honored and excited at the opportunity to host elopements and micro-weddings! Our ordained captain has the experience to make it a day or evening you will remember forever, and can accommodate whatever you may need to complete your vision – photography, décor, and of course, a couple of bottles of bubbly for a champagne toast! 
Depending on the size of your party, we offer two boats for chartered cruises. Our sailboat, Eleanor Hawkes, has space for up to 6 guests and is perfect for a smaller, more private sail. If you're looking for a slightly larger party, our newest motor vessel, Calista Ann, is the boat for you! We offer cruises for up to 12 guests maximum to keep the intimate feel for your group with a bit more space.
Reserve with us today for the wedding celebration of a lifetime!
3. Fort Williams State Park

Nothing is considered more "classic" Maine than the Portland Head Light, one of the country's most well-known lighthouses! Housed on the coastline of Fort Williams State Park in Cape Elizabeth, this location is so picturesque it's hard to beat. Really, anywhere in Fort Williams would make for a beautiful backdrop on your big day – from historic forts to lush, rolling fields, all with an oceanfront view, of course! Just a heads up that if you plan to have more than 20 guests attending your nuptials, you'll need to fill out an application to get married in the park.
4. Acadia National Park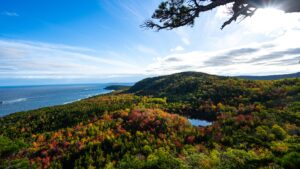 Acadia National Park is one of Maine's most iconic destinations, and for very good reason. The park offers scenic backgrounds of all types, from mountains and lakes to forests and rocky coasts.
Not only is it beautiful, there are also so many activities to enjoy – hiking, biking, kayaking, sailing, shopping – you name it! Spending a weekend in Bar Harbor and Acadia is the perfect way to celebrate following your wedding. Plus, your loved ones will thank you for giving them a reason to visit this beautiful preserved land!
5. Inn By The Sea
For a truly spectacular wedding setting that has all of the charm of Maine's coast combined with incredible luxury, look no further than Inn By The Sea in Cape Elizabeth. With a variety of event spaces to choose from, this opulent hotel can accommodate an elopement with two to a full-fledged wedding of up to 175 guests. Spend time at the pristine Crescent Beach, walk the blooming gardens, and toast to your next chapter ahead!
When it comes to unique wedding venues in Maine, there is no shortage of stunning options, each offering its own incredible advantages (not to mention those views!) Look no further for the wedding of your dreams, whatever that may mean for you!