Summertime in Portland, Maine is glorious – warm weather, sunny days, and a cool sea breeze align for perfect days spent outside. And where better to spend an afternoon or evening sailing around Portland's iconic Casco Bay harbor with Sail Portland Maine? There are so many amazing things to be seen while taking a leisurely cruise out on the water. Keep an eye out for these unique Casco Bay details on your next harbor tour in Portland, Maine!
Bustling Wildlife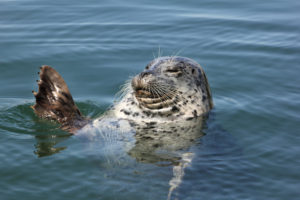 Portland's Casco Bay is teeming with wildlife of all types, some of which you can definitely expect to see on your sail. There's just something exciting about being on the open water and seeing a little head pop up from below the surface!
Of the marine animals that inhabit Casco Bay, most common are harbor seals, osprey, eider ducks, sunfish, sturgeon and more fish of all kinds. If you're really lucky, you may even catch a pilot, mike, finback or humpback whale, harbor porpoise, or Atlantic white-sided dolphins! The anticipation of possibly seeing this beautiful wildlife truly adds an additional level of fun to every sail.
Casco Bay Islands
There are seven islands in Casco Bay surrounding the city of Portland, each with its own history, scenic views and micro-culture:
Peaks Island
Little Diamond Island
Great Diamond Island
Long Island
Chebeague Island
Cliff Island
Bailey Island
On each island, you can find tiny shops, incredible seaside restaurants, and interesting features unique to each. For example: on Peaks Island, which is the closest to Portland's shore, you can rent bicycles or golf carts to explore the 2-mile coastal loop that makes up the island. You can explore the historic, graffiti-covered Battery Steele, a U.S. military fortification built in 1942 that served as the island's military defense. Near the dock, you'll find a stretch of restaurants, fresh seafood, and possibly the best ice cream in all of Portland at the Down Front ice cream shop!
The best part? Sail Portland Maine can do chartered trips to any of these islands – whether you're looking to take a private sail to one of the islands for dinner and take the ferry home or charter our sailboat for the entire evening, our chartered sail is an exciting, unique way to get there!
Fort Gorges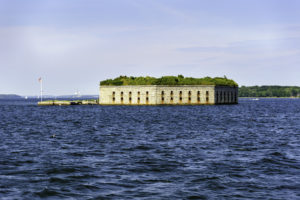 If you're looking out towards the Casco Bay islands, there is no way you can miss the magnificent Fort Gorges. Built in 1861 and modeled after Fort Sumter in Charleston, South Carolina, Fort Gorges was implemented as a reaction to the War of 1812. This piece of history, even more dramatic-looking covered in overgrown seaside vegetation, is an important part of Portland's story. Sail Portland Maine cruises can get you up close to experience the remarkable details of the fort and see for yourself the history written in the walls!
Portland Skyline
For a view you can't find anywhere else, the absolute best way to take in the beauty of Portland is from the open water of the Casco Bay! As the sun starts to set on our evening sunset sail, the sky appears to be on fire as Portland's tallest buildings become shadowed, creating a skyline that rivals even the largest cities. Combined with the peaceful, glassy water of the harbor, it's nothing less than magic!
Sail Portland Maine Aboard the Eleanor Hawkes
When you sail our chartered cruises, the experience can be anything you want it to be! Go out for a day trip to search for Portland's diverse wildlife, plan an excursion to one of the local islands surrounding the city, or enjoy an evening cruise to take in the bold colors of a Maine sunset. Bring along your favorite snacks and beverages and enjoy the sights and sounds of our gorgeous Casco Bay.
Whether you're new to Portland as a visitor, on an annual vacation or even a local looking for something unique to do, let Sail Portland Maine provide you with the best harbor tour Portland, Maine has to offer. For a unique adventure you'll talk about for years to come, book your ticket with us today!