Whether you're just in town visiting or a native local, Maine's gorgeous coastal city of Portland truly has it all. It's historic, full of award-winning restaurants and breweries, boasts an iconic waterfront, and the perfect place to enjoy a long weekend. With pandemic restrictions lifting just in time for summer, now is the time to get back out there and take advantage of what we've been missing for the past year! From the most incredible food to the best sailing charters Portland, Maine has to offer, here is a guide for 5 things you need to do this summer in Portland!
1. Visit the (Ample) Local Breweries & Distilleries
Portland has one of the highest number of breweries per capita in the entire country, with more than 25 breweries in the city alone. Distilleries, wineries and even fermentories are becoming increasingly popular too, and serve as the perfect option for those who may have gluten allergies or aren't into beer. Whatever your drink of choice is, you will undoubtedly find it in Portland!
Some of our favorite watering holes around town include:
Austin Street Brewery
Lone Pine Brewing
Oxbow (Blending & Bottling)
Bunker Brewing Co.
Bissell Brothers
Maine Craft Distilling
Maine Mead Co.
Urban Farm Fermentory
Root Wild Kombucha
2. Charter a Casco Bay Sail
Trust us when we say there is no better way to soak in Portland than by a chartered sail across the picturesque Casco Bay! At Sail Portland Maine, we offer private or public professionally-captained sails to give you that unique Maine experience.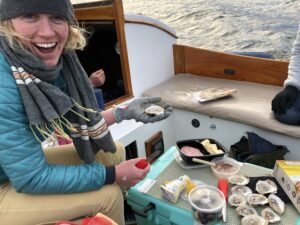 Not only is this an intimate, crowd-free way to take it all in, but you can make your sail whatever you want it to be. Have a birthday party, anniversary or engagement to celebrate? Need a fun excursion for a bachelor or bachelorette party? Thinking about eloping? We can accommodate all that and then some!
With various different sailing times throughout the day, you can come out for a lunchtime ride and bring sandwiches or takeout; in the evening, bring a few bottles of wine and charcuterie (there isn't a better sunset in the entire city, we promise!)
For the best sailing charters Portland, Maine has to offer, look no further than Sail Portland Maine. Book your chartered Casco Bay cruise with us here!
3. Take Yourself on a Foodie Tour
If you love trying new restaurants, prepare to be in heaven. In Portland, you'll find everything from classic seafood, hot new takes on classic dishes, every variety of cuisine under the sun, and food trucks galore. Whether you're craving poutine or street Thai, authentic southern BBQ or a lobster roll (or lobster taco, or lobster mac and cheese…you get the idea), you'll find it in Portland!
4. Spend a Day on Peaks Island
Peaks Island is a quick 30 minute ferry…or chartered cruise from Sail Portland Maine! Just off the coast of Portland, the island gives you a simple, quiet taste of true Maine. Bring your bike or rent a golf cart and take an afternoon to soak it all in – there is a historic war bunker from World War II, tiny hidden beaches, and quaint seaside restaurants that aren't to be missed. Make sure to stop at Down Front for the best ice cream around before you hop on the boat back to Portland!
5. Explore the Iconic Lighthouses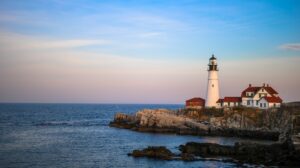 Being the coastal state that Maine is, there is no shortage of lighthouses. The most iconic of these is the oldest lighthouse in the state: Portland Head Light. Built in 1787 and boasting a dramatic view, the historic headlight is a bucket list item for many. You could easily spend an entire afternoon walking around Fort Williams Park in Cape Elizabeth, where the headlight is housed. There you'll find more historic war bunkers, food trucks, a pebbly beach and tons of green space to picnic or play. While the Portland Head Light isn't actually located in Portland, it's so close by that it would be a shame not to visit!
As the summer months roll in, there is no better place to be than Portland. Small enough to hold onto that quaint New England vibe but large enough to offer incredible culinary options, local art and culture, and unique attractions, Portland has it all. Don't wait to start enjoying your summer!
To learn more about sailing charters in Portland, Maine, please contact us today at Sail Portland Maine!