Whether you're a Maine native or just in town for the weekend, the fall season is the perfect time to enjoy one of the highlights of this beautiful state – epic foliage. This holiday weekend is considered to be peak foliage season, so we've put together some of our favorite places to go leaf peeping in Maine!
Acadia National Park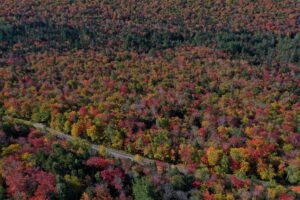 Nothing is more iconic than Acadia National Park in Bar Harbor, where you'll find hikes, walking trails, bike paths, and even oceanside restaurants that all boast an incredible view of the changing leaves. Located on the central coast of Maine, you'll experience beauty like you've never seen – plus, with smaller crowds now that peak tourist season is over. Make it a weekend you won't soon forget!
Portland's Casco Bay
Talk about a unique leaf peeping trip! Sailing along the calm waters of the Casco Bay gives you an undisturbed view of the stunning coastal foliage that can truly only be enjoyed by boat. At Sail Portland Maine, we provide daily two-hour sails that can be either public or private, depending what you are looking for. Our intimate, professionally-captained sailing trips are perfect for an afternoon or evening spent with loved ones enjoying the breathtaking scenery. To book a trip, check out our schedule here.
Baxter State Park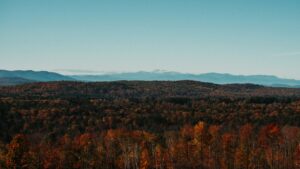 Located in northern Maine, Baxter State Park boasts more than 200,000 acres of forest and mountains to enjoy. You'll get a 360-degree view of the fiery reds, oranges and yellows we wait for all year long. There are many hiking trails to explore in the park, so give any of them a shot and get to higher ground for an even more stunning view.
Rangeley Lakes
The Rangeley Lakes Scenic Byway is a can't miss for leaf peeping in Maine. It's about 50 miles long and takes you throughout central-western Maine, where you'll get to witness double the foliage – bold-hued leaves and their reflection in the glassy water of the blue lakes. There are some wonderful options for biking, hiking, canoeing and kayaking in the area, so take to the lakes for an up-close and personal experience!
Leaf peeping in Maine is a short season, so don't wait to get outside and revel in the beauty of it all. Just be sure to pack your coziest sweater and your camera, and you are good to go!