Sail Portland Maine recently partnered with Yelp to host a Yelp Elite Event brunch aboard our very own Eleanor Hawkes, a true Maine sailing adventure!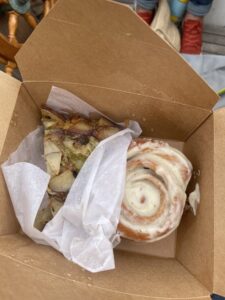 Last week, Yelpers took to Maine's Casco Bay to admire the fiery, rapidly-changing foliage and enjoy some brunch treats and adult beverages! Though the weather wasn't perfect, the rain luckily held off for the trip out to sea. According to Brian L.: "Despite the weather being a bit overcast and chilly, it was a wonderful way to spend a Saturday morning."
Kristi M. put it perfectly: "When you are on a boat, all that matters is that there is good food, good drink and good company. And, we checked all three of those boxes!" We couldn't agree more!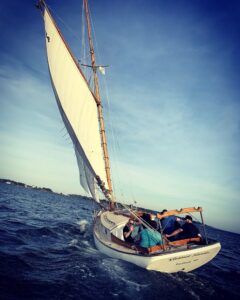 She continued on, saying "Captain Ian and his boat Eleanor Hawke provided us with a beautiful morning sail around Casco Bay.  We were able to peek at a few lighthouses and look around at some of the islands. The sailboat, while not big, was the perfect size for our group. I did venture in and use the facilities below deck and it was a fun experience."
Samantha L. agreed about the experience: "This is my first time on such a small sail boat- 6 passengers and captain. But it was perfectly spaced, and a bathroom on board….Perfect idea for a small group of friends that want to enjoy a relaxing ride with snacks and conversation."
Sail Portland Maine is an idyllic way to spend a couple of hours, whatever your Maine sailing adventure may be – from a cozy morning brunch to taking in one of Portland's epic sunsets on the Casco Bay. For the most unique sailing experience in Maine and one you're sure to talk about for years to come, book your chartered sail with us today! There are only a couple of days still available in the 2021 sailing season, so make sure to reserve your trip soon!