Sail Portland Maine was recently featured in Preferred Travel Magazine, a publication that combines exclusive travel content with visual storytelling to inspire luxury travelers as they explore the world. The private sailing charters offered by Sail Portland Maine were mentioned as a must-do long weekend activity when visiting New England's coast!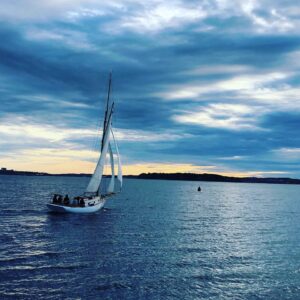 There is truly nothing more iconic than a long weekend in Southern Maine. Staff writer Hillary Richard perfectly captured the ideal way to spend a few blissful days, including a lovely ode to Portland's iconic Casco Bay and the Eleanor Hawkes. She writes, "To get a different view of Portland, venture out into the six unique islands of Casco Bay. Some are uninhabited, some offer fine dining, but all are scenic. Sail Portland Maine offers private sailing charters on the Eleanor Hawkes, leaving from Fore Points Marina."
Be sure to check out Volume 16 of Preferred Travel Magazine for more great travel tips and weekend trip ideas!
For an intimate, unique sailing experience in Maine – one you'll talk about for years to come – be sure to plan your 2022 chartered sail with us today! To learn more about next year's schedule, please contact us directly at Sail Portland Maine.