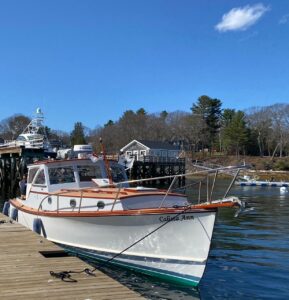 At Sail Portland Maine, we're  excited to announce the newest addition to our fleet – the Calista Ann! She is perfect for your next private charter in Portland.
Built in Maine in 1979 by Jarvis Newman and Jim Rich, the Calista Ann has a true classic Downeast picnic boat heritage. Sometimes also referred to as a cocktail cruiser, this motor vessel has slightly more seating than our sailboat, so if you're looking for a private charter in Portland for a larger party, Calista Ann is the boat for you! We offer charters for a minimum of 8 guests and a maximum of 12 to keep the intimate feel for your group.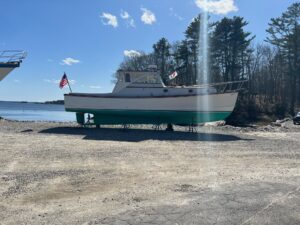 The Calista Ann will also offer more flexibility in the type of charters we can offer. Trips out to the Casco Bay islands for lunch or dinner, catered picnics and swimming breaks on longer charters, or even as a venue for proposals and weddings (talk about a perfect backdrop for photos!) – if you can dream it up, we will do our best to accommodate it!
Sail Portland Maine is a fun, idyllic way to spend your time in Portland, Maine. Whether you're visiting from out of town or a local Mainer making the most of our beautiful state, our trips are one of most unique harbor experiences and one you're sure to talk about for years to come. Start planning your trip with us today! To book your private charter in Portland aboard the Calista Ann, reserve your tickets here.