You can't go wrong with a spring weekend in Portland, Maine. With its flourishing restaurant scene, rich local history and stunning coastal sights, there is no shortage of fun things to do in this small "big city."  Whether you're coming for a romantic getaway, spending time with friends, (or even a local looking to mix it up!), if you're wondering what to do in Portland, Maine this weekend, we've got you covered. Look no further than this helpful guide from Sail Portland Maine!
Eating & Drinking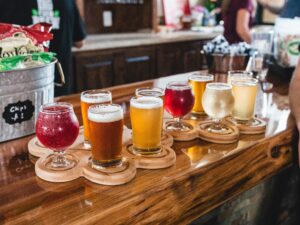 Portland's food scene has become nationally known, not only for its incredible quality but for its diversity! You truly can't go wrong at any of the many wonderful restaurants our small city has to offer. Some favorites include:
If you're looking to enjoy a few adult beverages, Portland has endless options! The most well-known, of course, being the local brewery scene. Did you know that Portland, Maine has the most breweries per capita in the country? Even if you're not beer-obsessed, many also serve wine, cider, and even cocktails. And, where there is a brewery, most often than not there's at least one food truck. Trust us, it's worth a trip to any of our many options for the experience alone! Some of the must-visit spots include the famed Allagash Brewery, Bissell Brothers Brewing Company, Oxbow Blending & Bottling, Rising Tide Brewing Co., Austin Street Brewery, and Maine Beer Company.
Shopping
The historic cobblestone streets of Portland's Old Port are filled with fun boutiques, local bookstores, antiques, art galleries and touristy souvenir shops – the perfect way to spend a couple of hours! Commercial Street and Exchange Street, both central to the Old Port, are a great place to start your shopping excursion. Some must-stop shops include Shipwreck & Cargo, Longfellow Books, Portland Flea-for-All, Portland Dry Goods, Asia West, Browne Trading Market, and Mexicali Blues.
Sightseeing & Activities
There is so much to do it can be hard to narrow it down, but there are some classic activities that make for a quintessential Portland, Maine weekend. 
The Portland Farmers' Market, which has been operating for more than 200 years, is the ideal way to spend a beautiful spring or summer morning. There is a huge variety of local and organic meats, cheeses, seasonal produce, fermented foods, baked goods, art, jewelry, flowers, honey and more!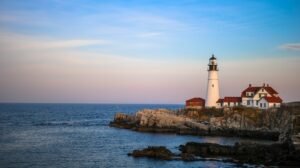 Of course, it wouldn't be a Maine weekend without a trip to the iconic Portland Head Light. Though not technically in Portland, this spectacular lighthouse sits on the shores of Fort Williams Park in Cape Elizabeth, about 5 miles from the city. With incredible ocean views set on rolling park hills, there is no better place to sit and enjoy the sights.
The highlight of your weekend should involve Portland's notoriously beautiful Casco Bay – it's the jewel of the city! We can't think of a better way to spend a morning, afternoon or evening golden hour than cruising the tranquil waters with Sail Portland Maine. Our professionally-captained Casco Bay charters offer an intimate, crowd-free trip for you to enjoy, and our two boats – a classic sailboat and a cocktail cruiser – can also both be chartered privately for the best experience on the water. Your enjoyment is our top priority, and we will do everything we can to make sure your trip with Sail Portland Maine is a memory you'll talk about for years to come. Book your sail with us today!
Local Culture
Portland is a city that's 235 years old, so naturally it's jam-packed full of rich history and local culture. You could spend much more than a weekend experiencing everything our city has to offer, so we've made it easy for you and picked out some highlights!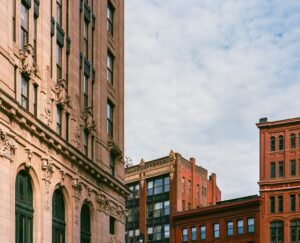 The Portland Observatory in Portland's East End is a maritime signal tower built in 1807 that used signal flags to communicate between ship and shore. It's the only known surviving tower of its type in the country and has been turned into a lookout with a small museum on the bottom. It's one of the best views in the city!
You can't miss the Portland Museum of Art, Maine's largest public art institution located in downtown Portland. This well-known establishment is home to pieces from some of the most renowned artists, including Claude Monet, Vincent Van Gogh, Andy Warhol and Maine's own Winslow Homer, to name just a few. The PMA's collection includes works dating from the 18th century to modern day, and truly has something for everyone to enjoy. Plus, entrance is free each Friday from 10AM to 8PM!
If you really want to learn more about Maine's history, you'll want to pay a visit to the Maine Historical Society Museum. The museum's exhibitions are updated regularly, showcasing more than 12 centuries of Maine living by way of documents, artifacts, and intricately woven stories that bring our history to life.
Whether you're spending 48 hours in Portland or simply here for an afternoon, there is plenty of eating, drinking, shopping and exploring to be done! If you're wondering what to do in Portland, Maine this weekend, let this itinerary be your guide for the most fun possible!