Peaks Island is located just off the coast of Portland, Maine, and is an official neighborhood of the city. It's been many things over the years, once being coined the "Coney Island of Maine" and then later serving as an important outpost during World War II, but is now home to artists, retirees, and everyone in between! It's beautiful, easy to access, and makes for the perfect day (or weekend!) trip in Maine. If you're wondering what to do on Peaks Island in Maine this summer, look no further – we've put together a must-do list for your coastal adventure!
How to Get to Peaks Island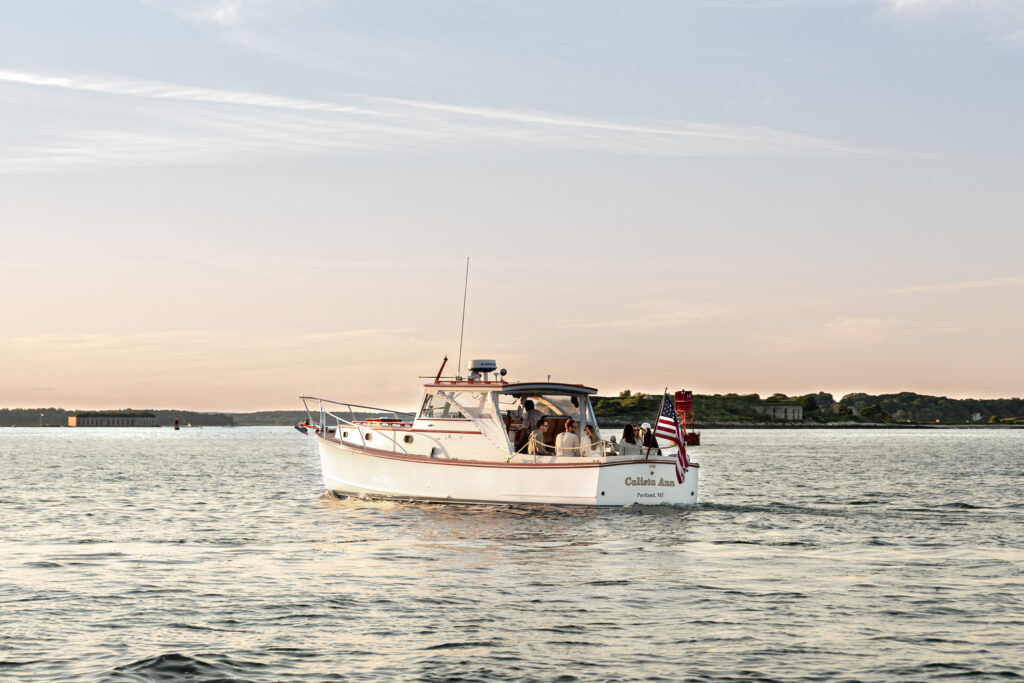 Peaks Island is close by, but still requires some coordination when it comes to travel because you need to take a boat to get there! But don't worry – we have you covered.
Sail Portland Maine offers private charters aboard one of our two vessels: our sailboat Eleanor Hawkes, which is ideal for a group of up to 6 guests, and Calista Ann, our Downeast Picnic boat with room for up to 12 passengers. Our trips are intimate, comfortable, and perfect for a trip out to Peaks Island. 
Private charters with Sail Portland Maine are totally customizable – whether you're a couple wanting to cruise out to Peaks Island for an anniversary dinner and then sail back under the stars, a bachelor or bachelorette party exploring the island for the day, or even a family outing. Whatever you have in mind, we can help you make it happen!
To reserve your next chartered cruise with Sail Portland Maine, book here today.
What to Do on Peaks Island in Maine
1. Take a Golf Cart Tour
Looking for a casual, fun and unique way to explore the island? Take a golf cart tour with Peaks Island Tours! Golf carts are the preferred means of island transportation, and you'll see why as soon as you hop on. There is nothing like gliding along the island's coast enjoying all the sights, sounds and smells of the sea! Accompanied by a local guide, you'll learn about the rich history of Peaks Island and all the unique stories that go along with it.
2. Stop for a Delicious Lunch
Is there anything more enjoyable than delicious food with gorgeous ocean views? We don't think so! Stop for lunch at the Cockeyed Gull, a little restaurant close to the ferry dock with an outdoor deck offering all the Casco Bay views. Island Lobster Company is another great option – run by a local commercial lobstering family, their "trap-to-table" approach to seafood and picnic tables overlooking the water are the definition of Maine.
3. Rent a Bike for the Afternoon
One of the best ways to explore Peaks Island is by bicycle. This gives you the ability to check out the entire island, which is an easy-to-navigate 4-mile paved loop, and stop at all the hidden gems you pass along the way. From public beaches to Battery Steele (more on that next), trust us on this one. Brad's Bike Shop is the place to go!
4. Explore Battery Steele
There are still remnants from the World War II days throughout the island, with the most notable being Battery Steele, a fascinating military ruin that was once used to protect Portland Harbor. Accessible by bicycle or foot, it's worth visiting. And if you're feeling brave, be sure to bring your flashlight – once you get into the tunnels within the structure, the concrete walls are thick and there is nearly no sunlight. A little creepy, but a very unique and cool experience nonetheless!
5. Indulge in Ice Cream at Down Front
You can't leave Peaks Island without passing by – and inevitably making a stop at – Down Front, the best ice cream on the island! There is truly no better ending to a day on the island than with a cold, refreshing cone. Plus, they have plenty of cute souvenirs available to commemorate your trip with!
Experience Peaks Island with Sail Portland Maine
For a unique experience you'll talk about for years to come, book your chartered cruise with Sail Portland Maine. There is no better way to experience our vibrant city's coastline! Our private chartered boat trips are crowd-free, intimate and completely customizable – we want to ensure you have an unforgettable time with us. 
Bring along any beverages and snacks, enjoy our lovely Casco Bay and the Portland skyline, and simply enjoy your trip out to breathtaking Peaks Island! To reserve your next chartered cruise with Sail Portland Maine, book here today.