When you think of Portland, Maine, you probably see visions of the rocky coast along the Atlantic ocean, an incredible foodie scene, and that old-school history. Mainers love all of those things, but another thing we are notoriously known to love? Dogs!
Portland is a very dog-friendly city, which makes having a furry best friend easy…and encouraged! After years of waiting for "the one," this is exactly how Captain Ian acquired his pup, who took to the Eleanor Hawkes as if he'd been sailing his entire life!
So, without further adieu, we introduce to you Sail Portland Maine's newest co-captain, Huckleberry!
Meet Huckleberry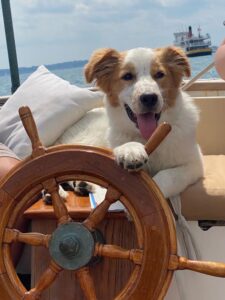 Huckleberry is a six-month-old mixed breed cattle dog/fluffernutter. His name hails from Captain Ian's favorite childhood book and a quote from his favorite movie, Tombstone, where Val Kilmer's character Doc Holiday says: "I'll be your Huckleberry."
With a floppy, goofy, playful personality, it's impossible not to love this smiling, freckled little face! Huckleberry's favorite things include chasing sticks and chewing on them until they disintegrate, looking for treats in his snuffle mat, playing with his best bro, Gryffindor, chasing waves at the beach and – of course – sailing! You can most often catch him hanging out with his dad aboard the Eleanor Hawkes and snuggling in passengers laps as they enjoy the ride. He is happy to greet every passenger with a happy sniff and a flash of those long red lashes!
(Did you know he was also Maine Boats' July Boat Dog?!)
Book Your Trip with Sail Portland Maine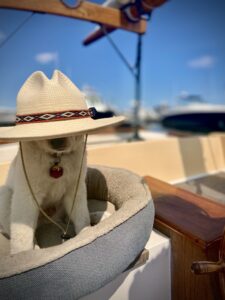 Come aboard the Eleanor Hawkes and treat yourself to the best sailing charters Portland, Maine has to offer! With its notoriously calm waters and breathtaking coastline, Casco Bay is sure to give you the most fun, relaxing sail that you'll remember for years to come.
Whether you're visiting Portland on vacation, in town for a special celebration like an anniversary, bachelor or bachelorette weekend, or even a local, you can count on Sail Portland Maine to provide you with the best sailing experience. We offer intimate trips without the crowds, so you can simply sit back and enjoy your sail! How you want to spend your sail is completely up to you, and we want to do everything we can to make it a lasting memory.
Our trips book up quickly, so be sure to reserve your sail with us today!