There is truly nothing cozier than a crisp, sunny fall day in Maine. Both native Mainers and visitors "from away" look forward to this season all year long, and for good reason. Perfect temperatures and breathtaking foliage are the perfect backdrop for a long weekend up north.
Looking for things to do in Portland, ME during one of these epic weekends? We've put together our top recommendations for our favorite cozy fall activities!
1. Brewery Tour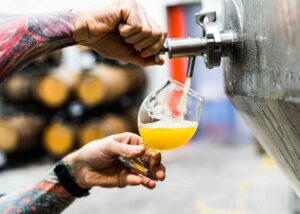 Whether this is guided or self-guided, you can't go wrong with a brewery tour in the cooler months. Portland has become a mecca for craft breweries, to the point where you really can't turn a corner without running into one, which makes this our obvious first suggestion!
This is an especially easy decision if you have kids, as our local breweries are notoriously kid-friendly. The ones with outdoor spaces typically allow pups to join in on the party too.
A handful of our favorite spots include:
Oxbow Blending & Bottling
Lone Pine Brewery
Bunker Brewing Co.
Austin Street Brewery
Rising Tide Brewing Company
Goodfire Brewing Co.
Foundation Brewing Company
There are so many options to choose from, it can be hard to choose just a couple. We recommend doing some light research depending on your taste and the atmosphere you're looking for!
2. Leaf Peeping on the Casco Bay
Take advantage of our renowned foliage from the best seat in the house – on a chartered sail of the Casco Bay! Sail Portland Maine offers both daytime and sunset cruises to show you the absolute best our beautiful coastline has to offer. You can pair a sunset cruise with oysters and rose or craft beer for an extra-special experience, although in general our cruises are pretty amazing. We max out capacity at six guests, so you know you're going to be having a private, intimate experience no matter what. Captain Ian has been sailing since he was a teenager, and will be glad to share his personal story, the history of Portland, and maritime history as you sail.
To book a reservation aboard the Eleanor Hawkes, please click here.
3. Portland Museum of Art
We'd recommend reserving this for chillier days, as it's easy to get lost in the vast selection of art and ultimately spend hours here. The unique space is located in downtown Portland and houses some major icons, including Andy Warhol, Claude Monet, and Maine's own Winslow Homer. They also showcase a wide variety of contemporary pieces, paintings, photography, pottery, and much, much more.
Learn more about the Portland Museum of Art by visiting the website here.
4. Portland Observatory
The historic Portland Observatory is one of Portland's best spots for a stunning view of the Casco Bay harbor – aside from actually being on the harbor, that is. It seems that this gem is rarely discussed but boasts such a gorgeous panorama, you should consider it a must-visit during your Portland weekend.
Located in the East End, the 200+ year old tower used to be a maritime signal tower – it's actually the last standing original structure of it's kind in the entire country. Standing at 86-feet high, it's just tall enough to clear the trees and make you feel like you're on top of the world.
5. Explore the Old Port
Last but not least, the jewel of Portland – the infamous Old Port! What used to be strictly a fishing harbor is now a bustling collection of streets covered in retail stores and boutiques, restaurants, bars – and our local fish markets, of course! The wharf is still as busy as ever for fishermen, so you get that classic, authentic Maine feeling as you walk down the street. It really is the best of both worlds and such a fun (and free!) way to spend an afternoon.
This is just a shortened list, of course, as there are nearly endless things to do in Portland, ME. It really is such a special place, especially when highlighted by the gorgeous fall weather and breathtaking views of the changing leaves. People who visit always want to come back, and people who live here never want to leave.
So, what are you waiting for? Starting planning your next Portland weekend!