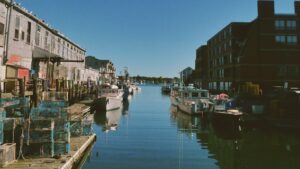 Summertime. It's what Mainers wait for all year long, braving the blizzards and frigid temperatures anticipating those few glorious summer months. Hot days, balmy nights, hours spent at the beach or the lake, weekend getaways filled with adventure, bonfires with friends, fresh seafood – that's what summer in Maine is all about.
With COVID-19 restrictions still in place limiting travel and businesses of all kinds, things in Maine are going to look a little different this summer – quieter, fewer tourists, and more time for locals to get out and enjoy all our beautiful Pine Tree state has to offer.
Mainers don't have to go far to find pristine coastlines, stunning mountains, endless miles of wilderness to explore and fascinating historical towns and cities. We've put together a Maine summer staycation guide to help you explore the magic that awaits just outside your front door.
Soak up the Sea in Portland
Portland in the summer is usually a sight to behold – tourists flooding the sidewalks, local sightseeing tours, long lines for restaurants. This summer, we likely won't be seeing much (if any) of the chaos that typically ensues, which gives locals time to truly take advantage of what the city has to offer! A few activities we'd suggest?
Explore Downtown
This may be the only time we have to take advantage of downtown Portland in the summer without crowds, so don't waste it! Wander the cobbled streets, explore by the docks (keep your eyes out for seals!), and grab take-out from your favorite restaurant.
Cruise on a Chartered Sail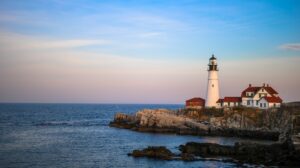 Sail Portland Maine offers professionally-captained two-hour cruises through the Casco Bay, sailing past Portland's stunning lighthouses and historic forts. We offer both public and private charters, though we never take more than 6 guests at a time to give you that intimate sailing experience. And better yet? We are BYOB! The bars in Portland may be closed, but you can still enjoy your favorite beverages as you enjoy a cruise through the gentle waters of the bay. Book your chartered sail today!
Walk the West End and the East End
The historical West End is the perfect neighborhood to take a leisurely stroll; Victorian mansions dating back to the late 1700s and early 1800s are still lived in and in pristine condition. As you walk, make sure to note the plaques on each home with the historical facts about them, such as the original owners and dates built. In the East End, enjoy the breathtaking views of Casco Bay while picnicking or relaxing on the rolling green hills above, or pack your towel and head to the East End beach for a dip in the salty ocean.
Explore Acadia National Park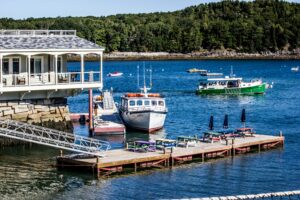 We hope you've visited the renowned Acadia National Park, but whether it's your first time or first time in a while, no other Maine summer staycation idea can compare. Home to more than 120 miles of trails that you can hike or drive, rocky beaches and must-see views, such as the sunrise from Cadillac Mountain, this Maine weekend trip is one for the books. There is nothing more iconic than a lobster roll in Bar Harbor!
Hike Our Beautiful Trails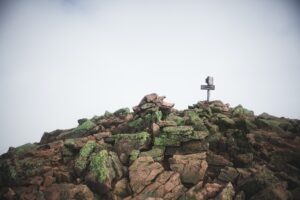 Did you know that nearly 90% of our state is forested? That means the options for hiking, walking, mountain biking or camping are essentially endless! There are so many peaks and trails we can't possibly name them all, but we recommend picking up a DeLorme Maine Atlas & Gazetteer if you don't already own one, which will help you map out your options. That said, if you're feeling extra adventurous, you'll want to tie up your hiking books and tackle Maine's largest peak – the glorious 5,267-foot Mount Katahdin.
Lounge in the Lakes Regions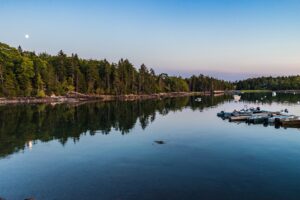 Head north to experience some of the most pristine, peaceful waters our state has to offer! The lakes in Maine are second to none. Some of our favorites include Sebago and Little Sebago, Echo Lake, Flagstaff Lake, Rangeley Lake, Moosehead Lake, and Webb Lake. Bring a book, camera and canoe or kayak to fully take advantage of the beauty to be found.
The silver lining to our current state of social distancing is that there is endless outdoor adventure to be found in Maine. Check out some of the items on our Maine summer staycation guide to take advantage of all the wonder our beautiful state has to offer, just outside your front door!