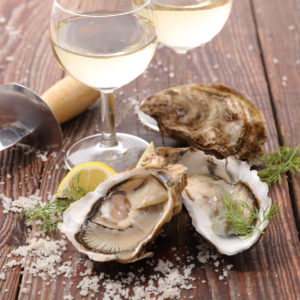 Oysters in Portland are the new rage. A shellfish that was once only liked by a handful of people and could be found freshly shucked at one or two spots in town now has over a dozen locations where the tasty little critters can be found.
The variety of oysters Portland Maine has to offer is truly remarkable, with seemingly endless options to choose among – from The Shop on Washington Ave, where oysters are always $1.50 each, to Eventide Oyster Co., where they are displayed in a grand style and are worth any wait you may encounter. As a city by the sea, Portland has a lot to offer in the oyster world.
With summer fast approaching, here at Sail Portland Maine we are tapping into this trend to the fullest extent. We will be sourcing oysters from all over Maine, from Frenchman's Bay all the way down to the Nonesuch River in Scarborough, and serving these briny delicacies on our Saturday sunset sails. What's better than oysters on a sailboat gliding along the coast of Maine, you may ask?
We'll tell you the best part! You will be able to bring your own wine or beer to go along with these scrumptious bivalves. We can suggest some wines and local beers to go along with, but feel free to bring your own favorite beverage. Along with the oysters, we will have some extra accouterments to go alongside them.
Enjoy a sunset onboard the Eleanor Hawkes while laughing, drinking, and eating oysters. We hope to see you this summer celebrating all the oysters Portland Maine bountifully provides!
Cheers,
Captain Ian