Sail Portland Maine promised you a contest and we deliver on our word. We are looking for a slogan for our sailing company to be permanently fixed, if we decide, to the entirety of our brand! As we stated in the last blog post, the winner of the contest will get four tickets to one of our Portland Maine sailing charter sunset sails, complete with oysters and rosé (must be used before June 30).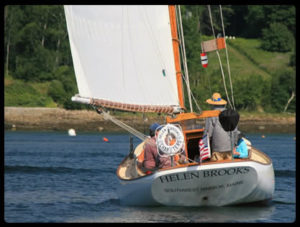 The contest will run for seven days and a select panel of judges will pick their favorite submitted slogan. There will be two runner-ups for "Best Pun" and "Worst Slogan" who will also receive some special prizes. The winners be announced within one week of end date. Once the winner is announced, we will DM them directly for details on how to redeem their prize – likewise with the runner-ups. The prizes will be mailed to the winners.
The contest will start Sunday January 6, 2019 7:00 AM and end Sunday, January 13, 2019 at 11:59 PM. Slogans should be family-friendly, nautically-themed and concise. The contest is open to all people and all ages!
How to Enter
Instagram
Post your favorite photo from summer with the suggested slogan in quotes beneath it, tag two friends who you'd want to sail and eat oysters with, like our profile, and use the #yoslogan hashtag to let us know you've entered.
Facebook
Share our contest post with all your friends and write your slogan in the post box, tag three people who you'd want to sail and eat oysters with, and like our page. Use the #yoslogan with your slogan entry.
For the most unique Portland Maine sailing charter experience you can get, reserve your trip with Sail Portland Maine today (or, if you're creative, submit your slogan and enter the chance to win two tickets!)