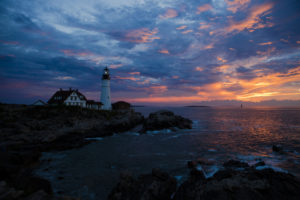 "The sky broke like an egg into full sunset and the water caught fire" – Pamela Hansford Johnson
What is it about sunsets? Is it the colors melting together, the shortness of the beauty that has the power to make people pull over and take photos, stop in their tracks and just gaze as the sun goes down?Or is it the fact the majority of people are awake for them as opposed to sunrise?
For any of the reasons you enjoy them, always make sure to stop and enjoy the peace of a sunset. If you scroll through the photos in your phone, how many sunsets are in the folder? Is it a major theme on your social media feed? If you're like us, you just can't get enough of the million places that can turn into pure majesty just with the sun going down. Whether it be over mountains in the west, on a western facing beach, or in the middle of the ocean with no land in sight, when the sun goes down, it can make a bad day turn magical. And if you don't have a camera, don't worry – just stop and enjoy it and take it all in.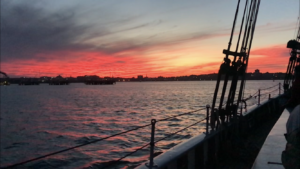 "If you are in a beautiful place where you can enjoy a sunrise and sunset, then you are living like a lord" – Nathan Phillips
Are you a hopeless romantic? Do you want to share a special moment with a significant other? Even have thoughts of proposing? Think of the sunset as the best time have this memory forever. Photographers call it the Golden Hour for a reason – not only is the light perfect for photographing your special moment or just the experience of sailing at sunset, but it will be a beautiful, shining, golden memory to cherish for the rest of your life. A great idea would be to bring a picnic with you, include some wines or craft beers. It will be a romantic evening you will never forget.
"When the sun has set, no candle can replace it" – George R.R. Martin
Where to See the Sunset
If you're visiting Portland or even just passing through, there are so many places in Maine to watch a sunset or sunrise.
Cadillac Mountain – Acadia National Park
The first place to see the sunrise in the lower 48 is Cadillac Mountain in Acadia National Park, where if you are feeling adventurous, you can wake hours before sunrise and hike up the trail to be the first one to catch some rays (or you can just drive up to the top!)
Mt. Battie and Mt. Megunticook – Camden Hills
If you are headed back towards Portland, go sailing on the Schooner Olad and watch the sunset over Mt. Battie and Mt. Megunticook in the Camden Hills – it won't disappoint.
Portland's City Views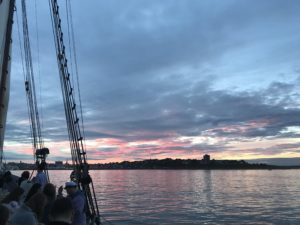 Once you find yourself back in Portland and you can't make it on our sail, there is still plenty of options to see a spectacular setting sun. The Top of the East in the Westin hotel is one of the highest look outs in Portland, they make a great cocktail and, with the right seat in the house, you can watch the sun go down over Mt. Washington on the horizon.
If you're afraid of heights, head over to South Portland and Bug Light Park, there's easy parking and a great view. Setup your camera just right and you'll be able to snap a photo with a lighthouse in the foreground and the city of Portland in the background.
"Don't forget beautiful sunsets need cloudy skies" – Paulo Coelho
Sunset Cruise Portland Maine
Sunsets in Portland can be pretty spectacular. Here at Sail Portland Maine, we take pride in giving you the opportunity to see Portland at its most beautiful. Book the most gorgeous sunset cruise Portland Maine has to offer – whether you have lived in Portland your whole life or this is your first visit to our stunning city and you haven't been on a boat, this is your chance. Portland has many views to see a sunset from as well, whether you're out gliding gently over the rollers out by Portland Head Lighthouse, or inside the inner harbor with the magnificent skyline of our little city, the colors will make you ooh and ah.
Happy sailing!
Cheers,
Captain Ian