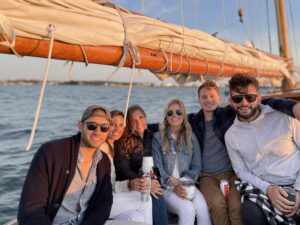 While all Mainers want to love the long winters enjoying the festivities, like spending all our money at L.L Bean in Freeport, being a ski bum at Sugarloaf, or jumping in a pick up game of ice hockey with friends, there is just something magical about the thaw of spring! And what better way to celebrate the beginning of a new season than with spring sailing tours in Portland, Maine?
Captain Ian has been working hard prepping for the sailing season, especially with the newest addition to our fleet: our cocktail cruiser, the Calista Ann! While it's extremely rewarding finishing up those winter projects – taking the boats from yard to home slip, coming up with new and exciting events for our excursions – he is ready to be on the water hanging out with all of you!
Spring Sailing Tours in Portland, Maine
This season, Sail Portland Maine has lots of great trips on the horizon, including partnerships with local breweries and foodies to bring you some fresh, fun and unique experiences out on Casco Bay.
We also want to be involved in your personal events! Whether it's an elopement, bachelorette or bachelor party, anniversary, proposal, or just a private sail for you and that special someone, we've got you covered!
Reach out to us and let us know what you have in mind – we'd love to help you create that perfect memory. Book your charter today with Sail Portland Maine for the best spring sailing tours Portland, Maine has to offer!