It's about that time of year – wedding planning season. If any of your friends are getting married in the next year then you know, especially if you're the best man, that planning a bachelor party is one of the most crucial aspects of the whole event. There's a lot of pressure to plan something that's not only cool and fun for everyone, but something more unique than the stereotypical Vegas or Nashville. Enter: Portland, Maine.
We've got amazing food, endless bars and breweries, and a ton of activities that will work for everyone in your group. For the most unforgettable bachelor party Portland Maine has to offer, keep reading to find out some must-do's while you're here.
Bar-hop the Old Port (specifically, Fore Street)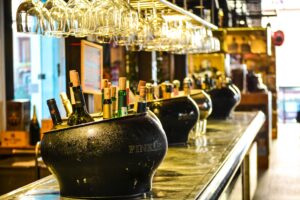 There are so many bars and restaurants in the Old Port section of the city, with everything from tiny Irish pubs to dance clubs and beyond – there is truly something for everyone. Some of our recommended spots include:
Gritty McDuff's
Gritty's has been around forever and is your classic local bar. With plenty of brews on tap and a full bar, sit your crew down at one of the many long family-style tables and get your night started.
Amigos
Definition of a dive bar, complete with strong drinks and an interesting crowd. It's super casual, complete with billiards, darts and a heated outdoor patio, and one of the spots you'll want to be for last call.
Pearl Nightclub
Possibly one of the only nightclubs you're going to find in Maine, Pearl is where you want to be for that ultimate club scene. Go for a few cocktails and check out their massive dance floor, which is always packed.
Bonfire
Looking for a country bar? Bonfire is your spot. Call it a dive bar with a country twist. The drinks come in red solo cups, country music videos play on the TVs, and there are authentic saddle swings throughout.
Oasis
Mixing in a little bit of everything, Oasis has three sections: a bar with giant Jenga, a dance floor upstairs with Mario Kart on a projector, and an outdoor bar that often has live music. You won't regret this one unless you order their infamous rum bucket.
Hit the local breweries
There are so many incredible Maine breweries it can be hard to pick. Some of our favorites include:
Allagash Brewing Company
Bissell Brothers Brewing Company
Rising Tide Brewing Company
Lone Pine Brewing Company
Austin Street Brewery
Foundation Brewing Company
Goodfire Brewing Company
Battery Steele Brewing
Oxbow Bottling & Blending
Definitive Brewing Company
You can't go wrong with any of the Portland breweries – each one offers a unique taste and perspective. This is the ideal way to spend a sunny Saturday!
Mix in a unique activity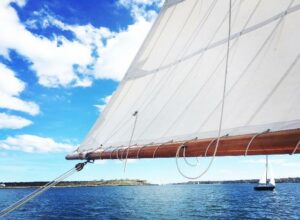 Drinking all weekend is usually a given, but make sure you work in some adventure to balance it out. There are a lot of options in the area for hiking, fishing, camping, renting ATVs, and so much more, but those all require a bit of travel. If you want to stay in the city, pack those local craft beers you just bought and join us aboard our sailing vessel, the Eleanor Hawkes, for a cruise around the harbor. Come check out the sights and sounds of our lovely Casco Bay and get the most Instagrammable view of the Portland skyline.
Eat lobster (in every form possible)
You can't visit Maine without eating lobster – especially Portland, which is one of the largest fishing hubs in the state. There's no fresher lobster out there, and there are seemingly endless restaurants that offer this delectable catch.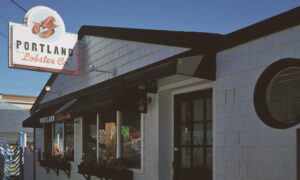 Highroller Lobster Co. is the easiest way to try lobster in a million different ways – they have lobster grilled cheese, lobster tacos, and "lobby pops" which are fresh lobster tails on a stick. Make sure you stop by the deck of Portland Lobster Co. for their huge lobster rolls and some live music. If you want to treat yourselves, head over to Eventide Oyster Co. for their renowned brown butter lobster roll, which comes in a fluffy bao bun. Our mouths are watering!
If your buddy is getting married, make sure you keep Portland in mind for a packed bachelor weekend full of quality local booze, incredible food and adventure. Don't miss out on the best bachelor party Portland Maine has to offer!