It's never too early to start planning your next trip with the kids, but it can be challenging to find a destination that is both budget-friendly and kid-friendly. Portland checks both of those boxes and then some, with fun for the whole family. Keep reading to see our suggestions for the idyllic family vacation Portland Maine can offer you.
Sea Dogs Game at Hadlock Field
Going to watch the Sea Dogs play at Hadlock Field is a classic Portland experience, perfect for children and adults alike. The Portland Sea Dogs are a Minor League Baseball team that serve as the Double-A affiliate of the Boston Red Sox, so it's not uncommon to see players that will swing in between teams or end up on the Red Sox. Hang out with Slugger, the notorious Sea Dogs mascot, and enjoy a day game full of activities for the kids or a night game under the lights. You can't go wrong with a baseball game!
Chartered Casco Bay Sail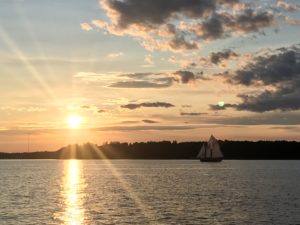 There's no better way to experience Portland than by way of a chartered sail! Come join Captain Ian with Sail Portland Maine for a relaxing, beautiful, and educational afternoon out on the sea. This is an activity that any age can enjoy – whether it be with a cold beverage for the adults, an Instagram-worthy photo opportunity for the teens, or tales of Captain Ian's many years of adventures on the open water for the youngsters. Start planning your Casco Bay cruise with us today!
Maine Narrow Gauge Railroad Company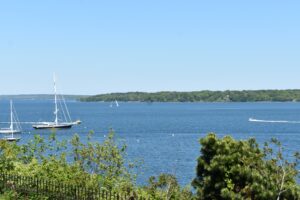 The Maine Narrow Gauge Railroad Co. & Museum is a unique experience that's dedicated to the preservation of Maine's two foot gauge railway system, which was used beginning in the late part of the 19th century to serve small Maine communities.
The museum offers a rich exhibit full of history and activities for children, but that's not even the best part! You can purchase a ride on this historic train (no need for advanced reservations, as there is plenty of room aboard) that lasts about 30 minutes and makes the 3-mile round trip along the Eastern Prom. The train operates rain or shine, offers open air and enclosed cars, and even allows pets – it truly doesn't get much more authentic or easy than this!
Peaks Island
Take a quick 30 minute ferry ride directly out of downtown Portland, and you'll land on a quaint island perfect for exploring. Rent a bike or a golf cart and spend a half-day cruising around the island, checking out beaches, walking trails and magical nooks and crannies. Make sure you stop for a lobster roll at one of the cute restaurants they offer near the dock, and don't leave without grabbing an ice cream from Down Front!
Portland Head Light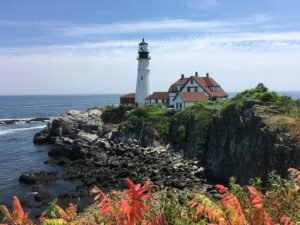 Last but certainly not least is the picturesque Portland Head Light. Located in Fort Williams, which is a former U.S. Army fort in Cape Elizabeth (just a few miles from Portland), there is so much for kids to do. There's a tiny pebbled beach where you can hunt for treasure, several historic forts that you can explore, the perfect kite-flying hill, and of course the breathtaking Portland Head Light herself. There are often food trucks placed throughout the park as well, so you don't have to worry if you didn't pack a picnic! Trust us – you'll want to spend an afternoon leisurely exploring this beautiful gem.
This is only a small handful of the many family-friendly activities you'll find in Portland. If you had any concerns about where to travel with your family this year, don't worry! Enjoy the best family vacation Portland Maine has to offer with these suggestions (and many more adventures awaiting you!)