When the weather is warm in Portland, there is no better place to be than out on the stunning Atlantic ocean. Sail Portland Maine offers intimate Casco Bay private harbor cruises that give you a personal chartered experience like no other. Before you book your trip with us this summer, be sure you're prepared with answers to any questions you may have!
What type of boat will we be taking out?
The Eleanor Hawkes is a traditional Friendship sloop, also sometimes referred to as a Muscongus Bay sloop or lobster sloop. This boat is a traditional style that got its name from its origin in Friendship, Maine. Created in 1880, the Friendship sloop was the traditional fishing and lobster boat in the state until the early 20th century. Sailing on the Eleanor Hawkes offers you a unique opportunity to experience some of Maine's rich history.
Our newest addition to the fleet is the Calista Ann, often referred to as a picnic boat or cocktail cruiser. She has slightly more seating – if you're looking for a private cruise for a larger party, Calista Ann is the boat for you!
How many people can go on each sail?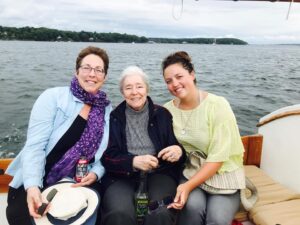 Our sailboat, the Eleanor Hawkes, has room for up to 6 people; our newly-acquired cocktail cruiser, the Calista Ann, can host up to a group of 12 (or a minimum of 8).
Ours is one of the smallest chartered cruises in town, which is part of what makes Sail Portland Maine so special! Our goal is to give you an intimate, private trip that is set apart from the standard, fully-packed chartered trips of larger companies. If you have fewer than 6 people in your party but want the opportunity to have the boat to yourselves, you can also book a private charter based on availability.
What is the policy for alcoholic beverages?
Adult beverages are welcome on board! Feel free to BYOB along with any food you'd like. Is there any better way to take in the gorgeous coast of Maine than with a refreshing beverage in hand? We don't think so!
How long are the chartered trips?
Our chartered trips typically last about two hours, though we can accommodate longer sails by request.
Where do I book a reservation for a charter?
You can easily make a reservation for our trips on our website or give us a call directly at 207-200-6650 to schedule. 
Please note, you may cancel your reservation without charge up to 48 hours prior to your scheduled departure, but any cancellations within that 48 hour period will require you to pay the full amount of the charter. If there is inclement weather and the Captain must cancel the trip, you will not be charged.
Who charters at Sail Portland Maine?
Captain Ian has many years of experience crewing and captaining ocean-bound vessels, from private sailing yachts to commercial supply boats (in some cases, even yachts for royal families!), so you can expect to hear some fascinating stories from his journeys as you cruise.
At Sail Portland Maine, we offer crowd-free, professionally-captained excursions so you can enjoy an intimate experience you'll never forget. Enjoy quality time with your loved ones, have a cold beverage, and take plenty of photos while aboard the Eleanor Hawkes. If you have any questions about booking one of our Casco Bay private harbor cruises for this summer's next big adventure, please contact us!